"Pac-Man" Is The First Game To Be Inducted Into The International Video Game Hall Of Fame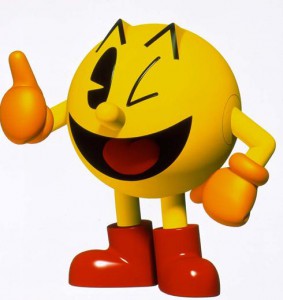 Over the weekend, the International Video Game Hall of Fame inducted its very first class.  Most of the entrants are people who have created or set records playing video games, but there was one game they chose to immortalize.
–And that game is . . . "Pac-Man".  It beat out "Pong", "Super Mario Bros.", "Space Invaders", "Donkey Kong" and all of the other classics to become the first game inducted.
–The committee behind the new Hall of Fame says they chose "Pac-Man" because, quote, "The arcade unit alone has been played more than 10 billion times."
–"'Pac-Man' is one of the longest running video game franchises from the golden age of video arcade games and [along with'Pong' and 'Dragon's Lair' is one of only three video games on display at the Smithsonian."
–The other high-profile inductee was 57-year-old SHIGERU MIYAMOTO, the man who created 'Donkey Kong', Mario, "The Legend of Zelda" and several other franchises for Nintendo.  He's considered the top video game creator of all-time.
–The International Video Game Hall of Fame is located in Ottumwa, Iowa . . . which is a town in southeast Iowa with a population of 25,000.
–Why the HELL is it there?  Ottumwa is home to a famous arcade called Twin Galaxies, which hosted several video game championships back in the early '80s.
–In 1982, the mayor issued a decree calling Ottumwa the Video Game Capital of the World.  No one bothered to argue with them, so they've claimed that title ever since . . . and now they've built the Hall of Fame to cement it.
ELECTRONIC ODYSSEY

Nearly 100,000 video games have been released since the days of Pong and theMagnavox Odyssey (the world's first home video game system, in 1972), according to game-stats tracker Twin Galaxies. USA TODAY's Mike Snider serves up some historical highlights:

Best-selling video game. Wii Sports, with lifetime sales worldwide of 45.7 million copies from its launch in 2006 to May 2009. The previous record, held for more than 20 years:Super Mario Bros., with 40 million copies.

Top-selling game in its first 24 hours.
Call of Duty: Modern Warfare 2 generated $401,690,771 on its launch Nov. 11, 2009, also setting a record for one-day revenue by any entertainment product.

Most recognizable video game character.Pac-Man, according to a May 2008 Davie-Brown Index poll. He's recognized by 94% of U.S. consumers; in second is Mario at 93%.

Most ported video game. Tetris, on more than 55 different formats.

Most-played coin-operated video game franchise. Golden Tee Golf, by about 1 billion worldwide in more than 100,000 bars and pubs.

Top arcade games:
1. Space Invaders. 2. Pac-Man.
3. Donkey Kong. 4. Street Fighter II.
5. Asteroids. 6. Defender. 7. Galaga.
8. Gauntlet. 9. Outrun. 10. Pong

Sources: Guinness World Records, Twin Galaxies.com, www.arcade-museum.com,
USA TODAY research