Health authorities in the US have recalled 380 million eggs after hundreds of people contracted salmonella.  Read the article below: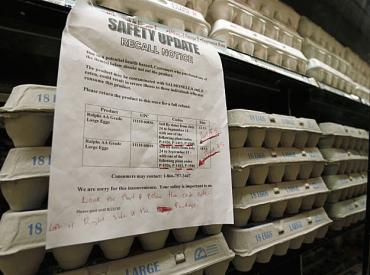 Wright County Eggs, the Iowa manufacturer of 320 million eggs that have been recalled nationwide, on Thursday revealed more brands and identification numbers for packages that may have been contaminated with salmonella.

The recall includes many popular brands sold in California supermarkets. A full list of affected brands and identification numbers can be found at www.eggsafety.org.

Hundreds of people around the country have been sickened with salmonella from tainted eggs since May, according to the U.S. Centers for Disease Control and Prevention.

Contaminated eggs first were taken off shelves last Friday, but many consumers may have recalled cartons in their refrigerators. Eggs that are part of the recall should not be eaten, and can either be thrown away or returned to the store where they were purchased.